In a fiercely contested battle for bookings between Hotels and OTAs anything that can give a hotel an advantage against the massive reach of the OTAs is worth considering.  Hotels who invest in 3D models are creating valuable sales tools which the OTAs do not offer.  We know this because we are regularly contacted by OTAs seeking to license our 3D Models for their sites.  OTAs generally rely on photography stock provided to them by hotels directly or through intermediaries.  By keeping their 3D Models exclusive to their own website channels, hotels are gaining a small but valuable advantage over the dominant OTAs.  3D models are the best way of giving customers an concise overview of a room in a way that standard photography cannot.

The same principal applies whether you are booking a luxury getaway or an economy room, you want to understand the space before making a decision. We render three views for each 3D Model in our system to provide clients with a Front, Reverse and Top-Down View of the room. This guarantees a clear overview regardless of the room size, orientation or layout.
Nothing is left to the imagination, the customer is not left wondering whether the real room looks anything like the photograph suggests.  For customers requiring disabled rooms the need to understand the layout of a space is even more important and 3D Model allow them to book with confidence, safe in the knowledge the room will meet their needs.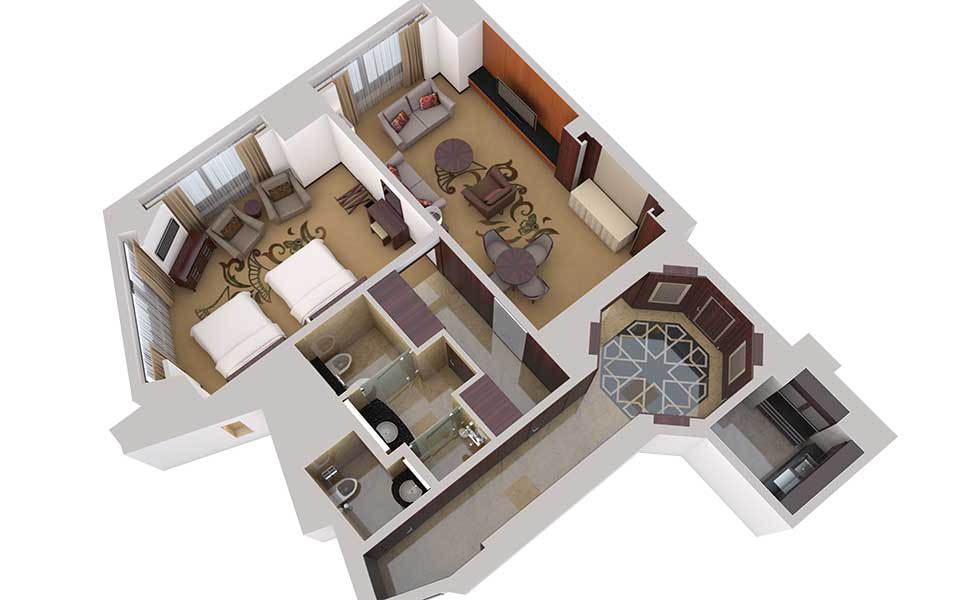 Our 3D Models are built from the CAD or Blueprint files supplied by the hotel along with reference photos taken by the on-site hotel staff.  Each 3D model is built to the exact specifications with each and every item re-created to extreme level of detail. Every 3D Floorplan Model is reviewed and checked by the hotel before final approval. Revisions requests can be marked directly onto the Floorplan to allow us deliver a perfect 3D replica of the Space from any angle.  Our 3D Models can be updated at any time to match future renovations whether it's a complete make-over or a small change. From our 3D Models can can generate in-room views which are so lifelike they can be used in the place of standard photography stock without anyone telling the difference.