At some point, we have all booked a hotel based on the beautiful photographs only to feel a bit let-down when we discover the room is not quite as spacious or stunning in reality. 3D Floorplans offer something new to both the customer and the hotel. In today's world, guests want to feel in control of their stay right from the very start; they are active rather than passive consumers, and have more of a vested interest in their experience as a whole. With 3D floorplans, you can give more control to the customer by providing them with a practical tool to inform their decision. They work equally well whether you are marketing bedrooms or ballrooms.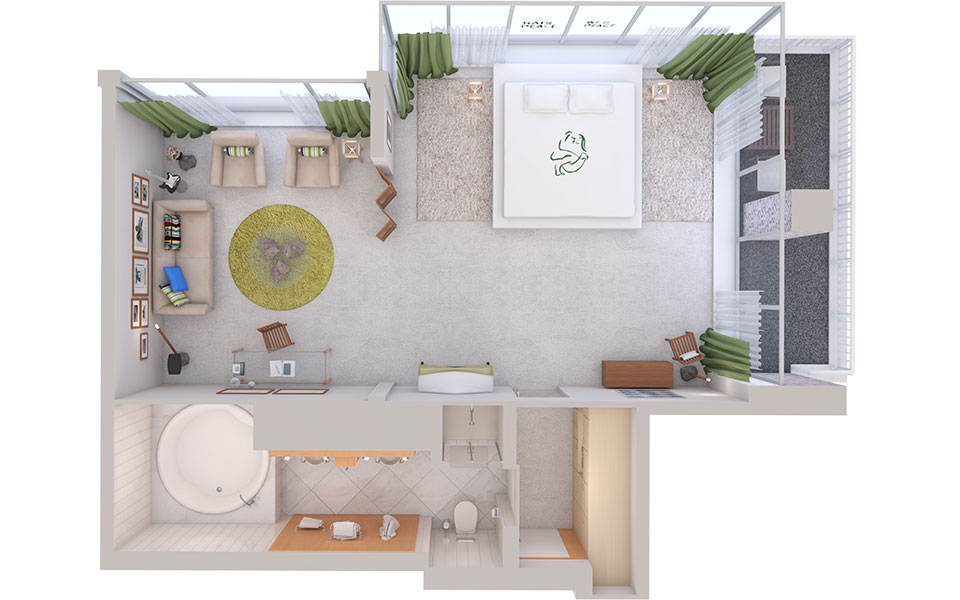 Hilton Amsterdam – John & Yoko Suite
Most hotels rely on photographs to sway a customer's booking process, but these can often be misinterpreted. Instead of using photos that may not necessarily portray the hotel space in its entirety, 3D floorplans give customers a real sense of their rooms during the booking process. That means no more disappointed customers who have used their imaginations to fill in the gaps that traditional photographs leave. No more nasty surprises means happier guests and returning customers time and time again.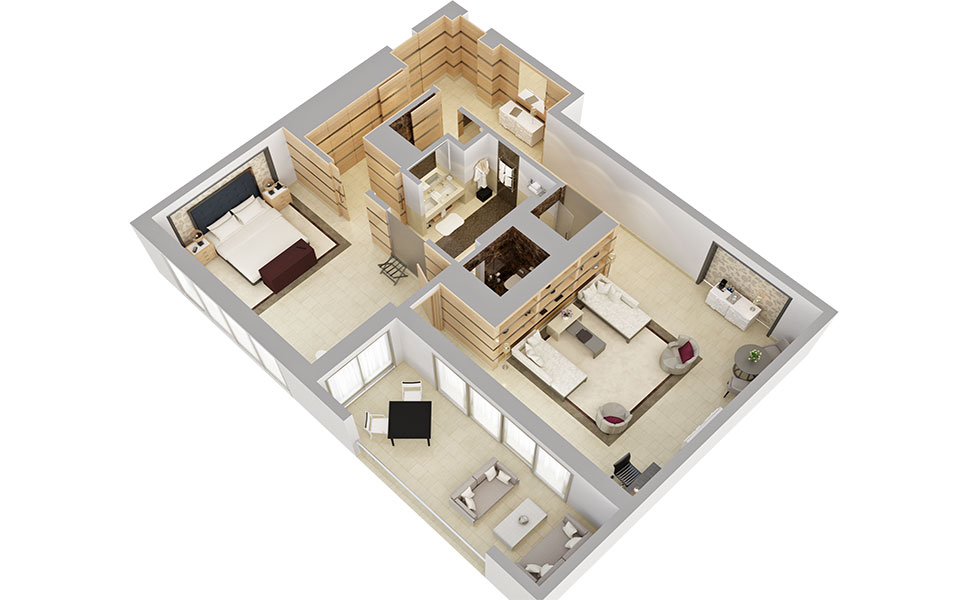 Conrad Algarve
When travelling as a group, particularly with young people, it's important to know the limitations you have to work with. 3D floorplans are great for families because they can gauge the size of the rooms before booking. This is something that traditional photographs simply cannot offer. 3D Floorplans are extremely useful for guests with limited mobility, as they can assess whether the room is suitable for their needs without relying on someone else's opinion.
Hilton Barcelona
There is no question that it's both difficult and expensive for Hotels keep their photography stock up-to-date. This is where 3D Imagery can really help hotels because unlike standard photographs, 3D Models can be updated again and again. This allows a hotel to maintain a library of up to date Floorplans & Visuals based at all times. A set of 3D floorplans whether of the bedrooms, meeting spaces, leisure areas, restaurants, or exterior spaces is a valuable asset.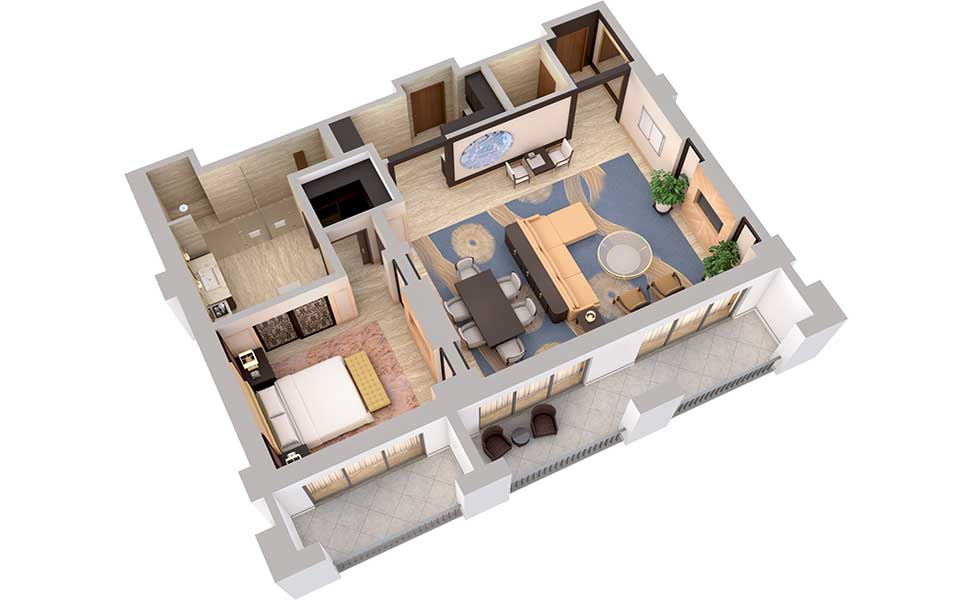 DoubleTree Hainan Qixanling Hot Spring
These tools can be used by the sales and marketing teams, operations and general management.  They offer a real insight into hotels, giving customers the ability to understand the hotel before setting foot in it. When faced with a highly detailed 3D floorplan and a set of photographs that don't give a rounded view of a hotel, customers will always opt for the 3D floorplan. Nobody likes surprises when it comes to hotels, and giving customers the chance to see exactly what is on offer is a major plus for both customer & hotel alike.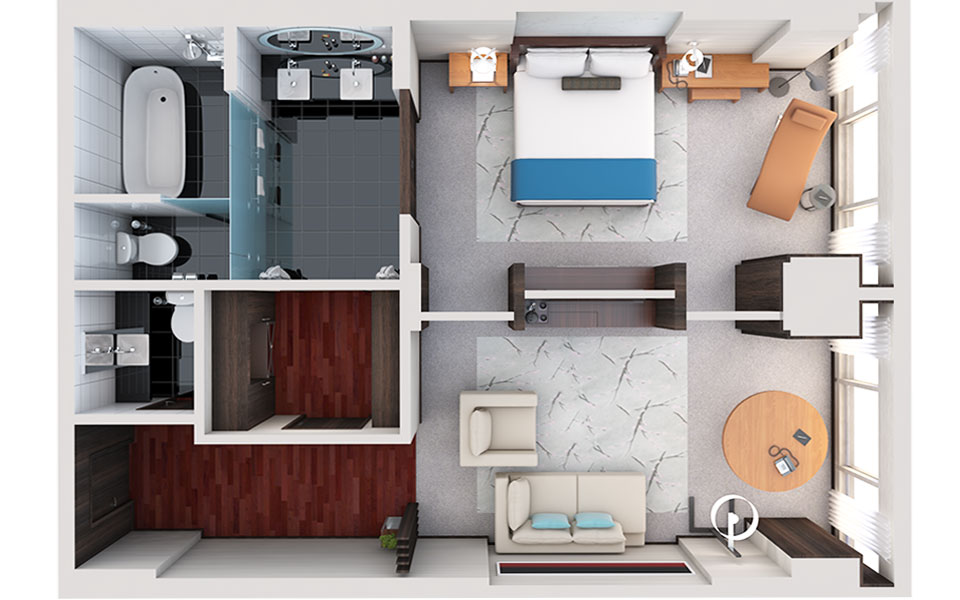 Conrad Tokyo  – Deluxe Bay View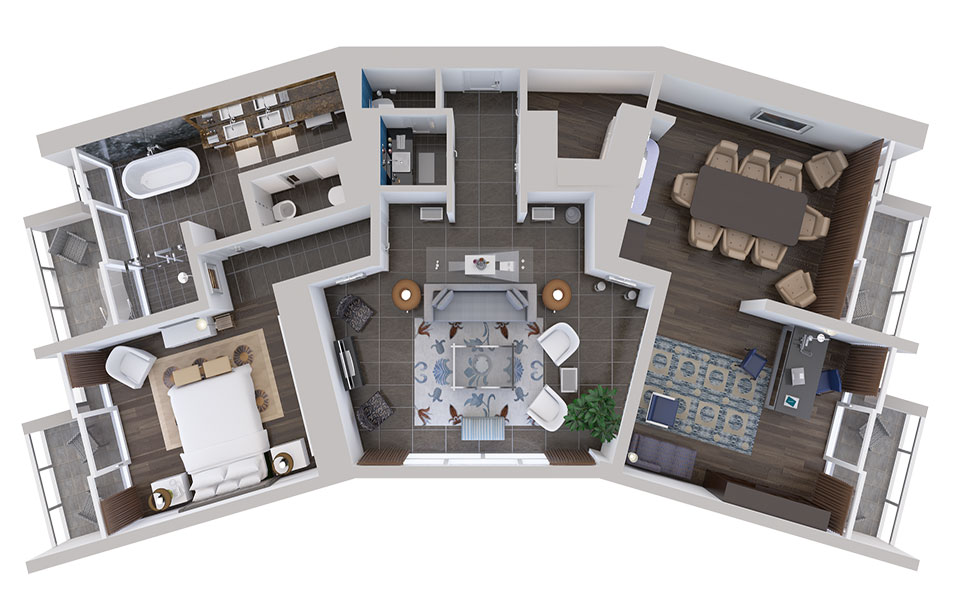 Hilton Tel-Aviv – Presidential Suite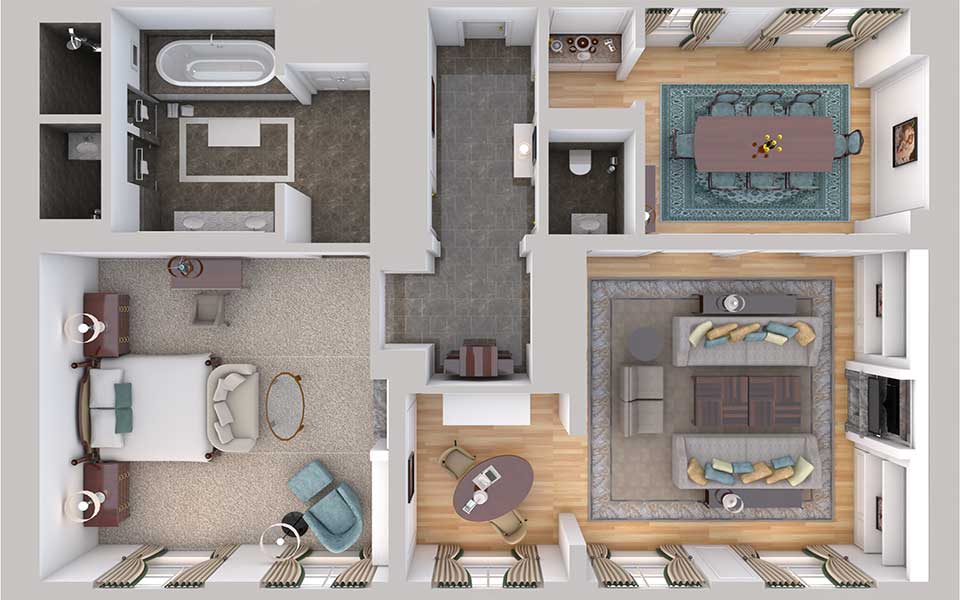 Waldorf Astoria Amsterdam – Brentano Suite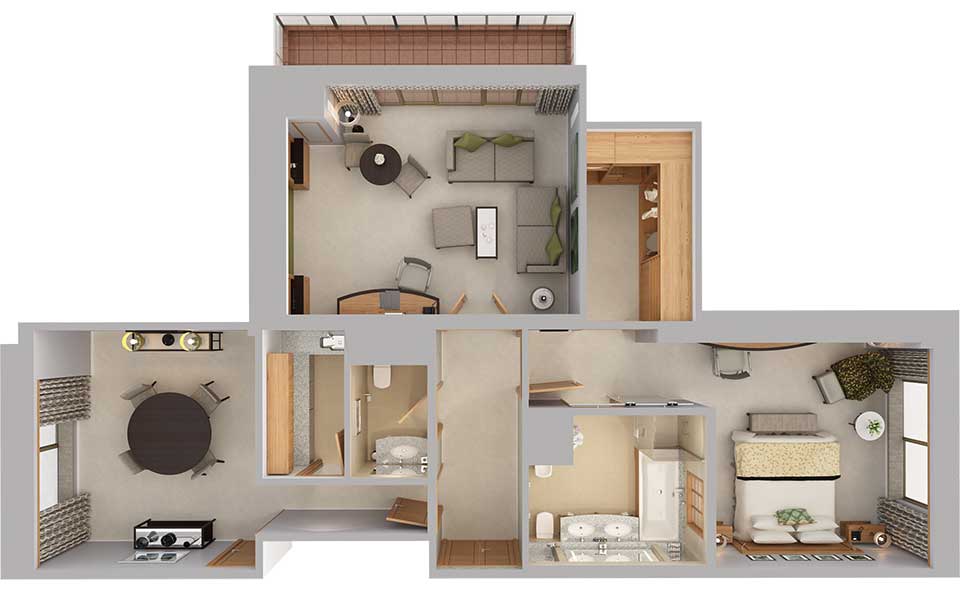 Hilton Park Lane – Chelsea Suite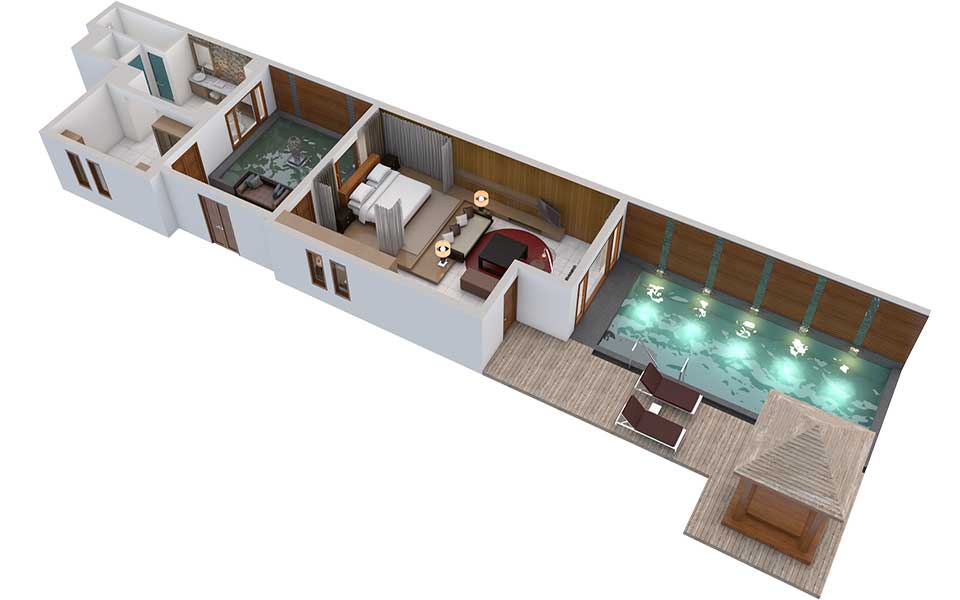 Hilton Ngapali – Luxury Suite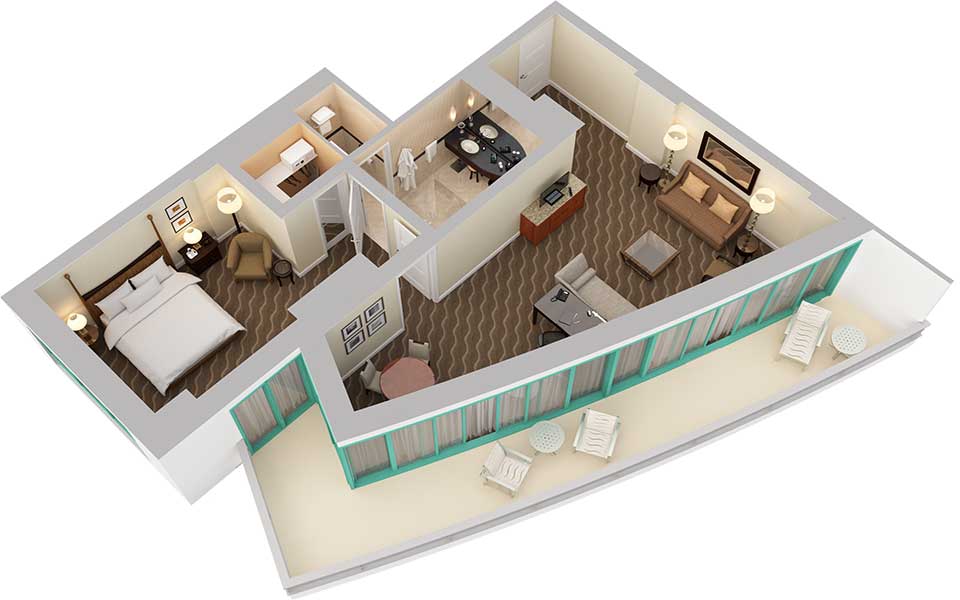 Diplomat Resort – Beach Suite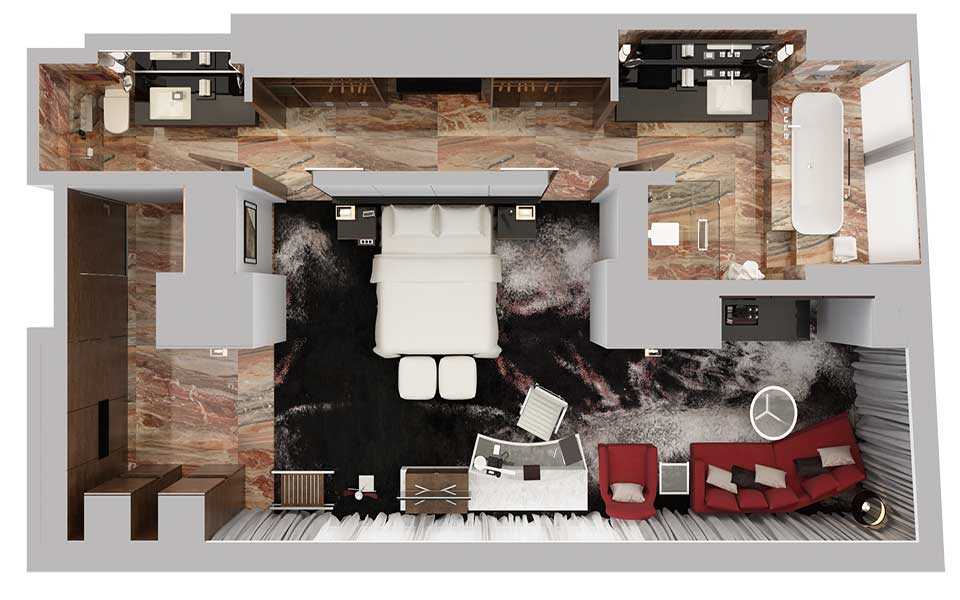 Hilton Guangzhou Tianhe – Panorama Suite