After you have learnt the difference between moving the room and the camera the next step is to understand all the menu controls so that you create or edit plans exactly the way you need. The main menu controls are down the left hand side of the screen and the key point to remember is that you need to have objects selected within the room for most of these functions to work. If no furniture objects are selected in the space then you cannot make any changes to your event plan. Here is a quick intro video to the main builder controls.
Main Menu Functions: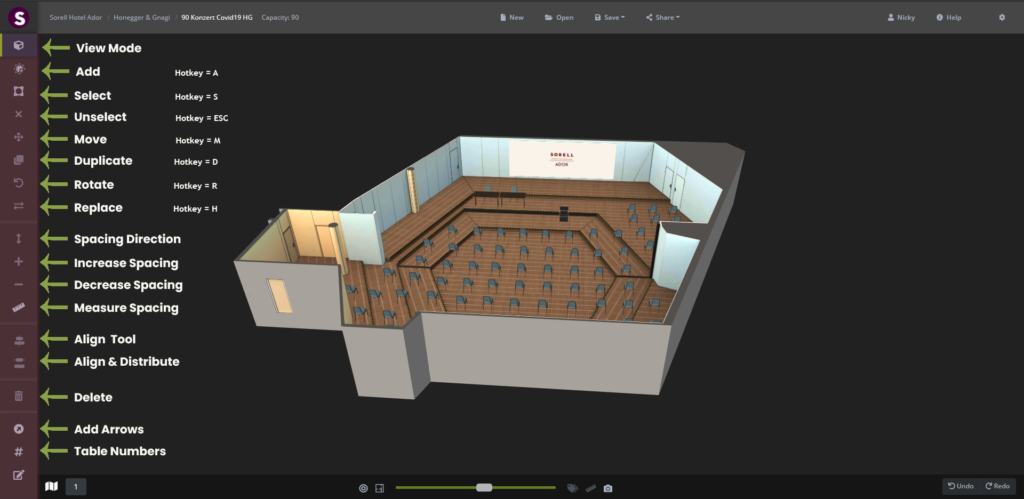 After the first set of controls we have the Spacing Tools Menu:




The next section contains the Alignment Tools



The Bottom Menu contains a number of key tools: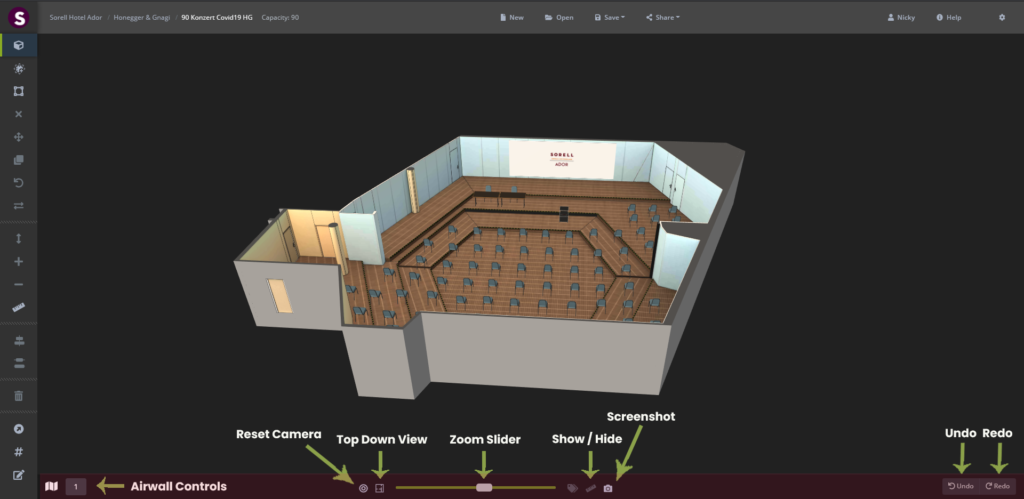 If you cannot see the lower menu you need to adjust the Zoom settings in Chrome to 80% or less.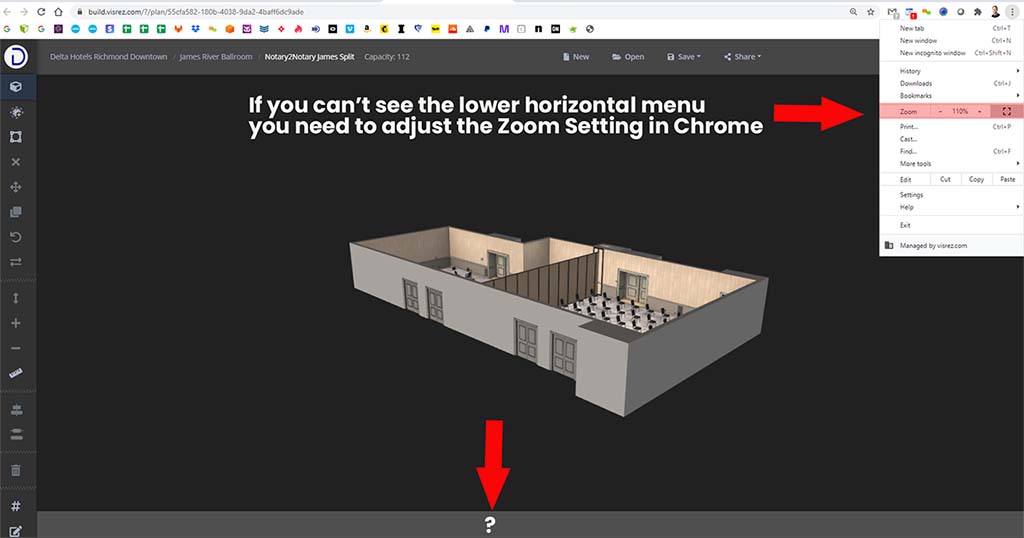 Once you have reduced the zoom the lower menu will appear.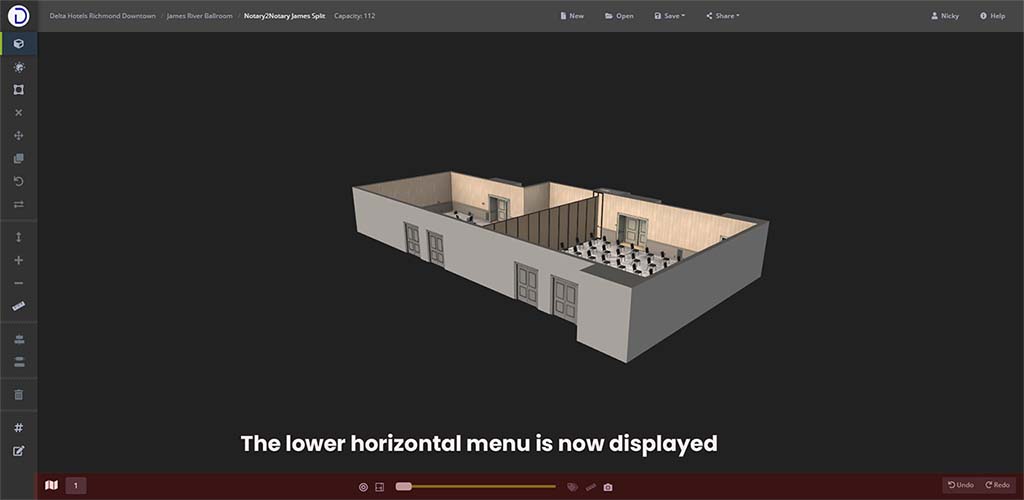 Top menu includes the Event Description, Capacity, New Plan Wizard, Share and the Help Section, Theme Switch and Settings.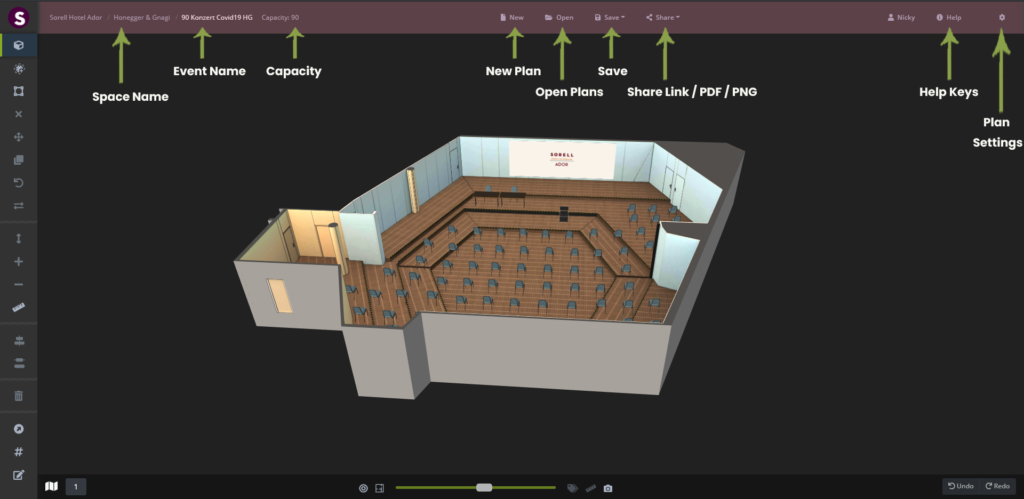 To do anything with an object it must first be selected. This can be done using the Select Tool (Shortcut = S) , or CTRL + A (Selects All Obects) or double clicking on an object. You can also hold down CTRL to select multiple objects at the same time. Once an object has been selected it will be highlighted. A selected objects summary menu is in the lower right side indicating all the objects selected. The in-plan highlighting for flat objects such as Dancefloors & Stages can be tricky to spot but when you need to check what is selected always view in the bottom right corner.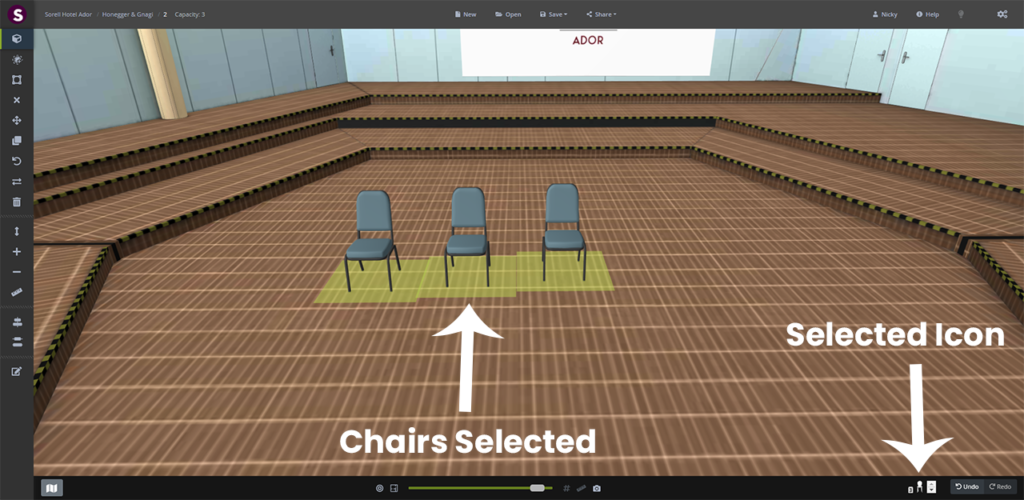 Here you can see what the selected objects panel for a diagram which contains many objects contains:

Menu Hotkeys
Floor Plan Builder is different to other diagramming software because the user is able create diagrams in a 3D environment rather than creating plans using a 2D editor and previewing in 3D. This may take a little getting used to at the start but once you have mastered the tools you will be able to generate amazingly realistic diagrams quickly. A list of shortcut keys is in the Help section in the top right corner of your screen and as a tool-tip when you mouse over the main menu.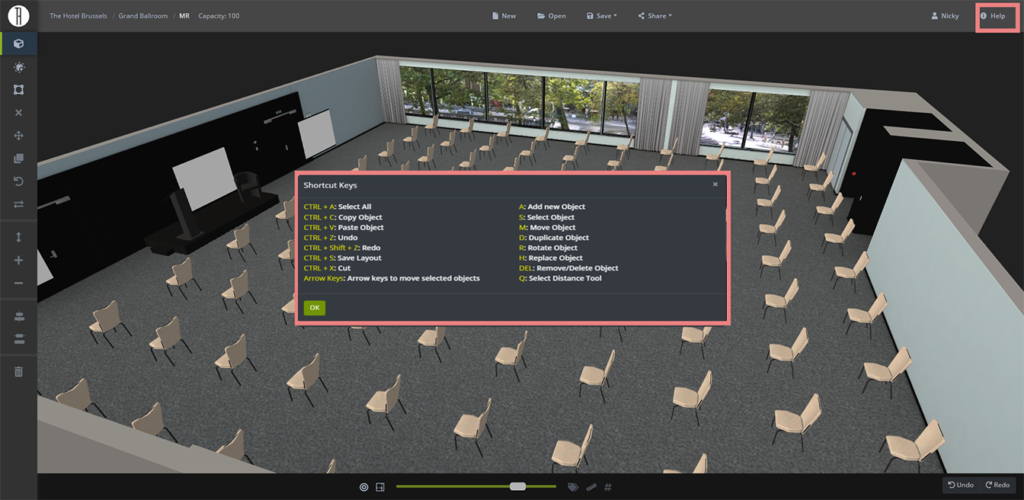 Please note as we release later versions of the builder some of these menu items may move or change so the guide may now always have the most up to date screenshots of the tools.